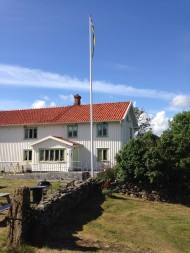 A hidden gem in the peaceful setting of Vendelsöfjorden, welcome to us!

Vendelsöarna – a nature reserve and an archipelago located in Vendelsöfjorden between Varberg and Kungsbacka.

Vendelsö hostel is equipped for self-catering and has 20 beds. There's a common kitchen with a kitchen-range, oven, china, outdoor grills etc.
You can pre-order breakfast (self-service) from us. Linens and boat trip are included in the price.
You can buy ice cream, cold drinks and a cup of coffee/tea.

Relax in a peaceful setting with the sea and the countryside on the doorstep. The hostel, Ludvigs gård, dates from the late 18th century and provides a homely atmosphere.
The surroundings makes you relax, make yourself at home, sit in the garden under the apple trees, swim from the jetty, socialize with other guests or explore the local countryside on your own.

The island has four older summer houses and there is also a windmill which originates from the 1870's. The island has a varied nature with rock landscape in the south, open land with meadows o flatter parts of the north.

During the summer, we are joined by a number of cows with calves; they also enjoy the tranquility and peaceful surroundings!

There is a rich animal and plant life on the island and under the roof of the main building you can watch Common House Martin and Common Starlings nesting. You also find Barn Swallow, European Robin and White Wagtail nesting around the house.
Are you a group of friends looking for a getaway on an island or in the heart of a nature reserve, are you coming on your own or are you a couple? At Vendelsö there is really something for everyone!

Activities
At Vendelsö you get to relax in a welcoming, yet unique environment! Discover the island; it takes about two hours to walk all the way round the coast line. The nature is varied with rocks in the south and meadows in the north.
In the centre of the island there are areas of woodland and small ponds. The island has a wealth of fauna, including many species of birds, and you might even see a seal!

You pre-order your boat trip when making a reservation
Our boat leaves from the port of Stavder, where also Swedens first national tourist bicycle route Kattegattleden passes.

We are looking forward welcoming you to our hostel!
Helén & Lars
Nature reserve - important information for visitors from the County Administrative Board:
Welcome to Vendelsöarna nature reserve - an archipelago rich in remains of earlier agricultural eras. Ancient monuments are evidence of human activity as early as the Stone Age. Animal pasture and the proximity to the sea leave their mark on the plant and animal life. Thrift, breckland thyme and sea milkwort belong to the reserve's rich flora. You will also find a rich bird life here with species such as oyster catcher, common redshank and sandwich tern. When you visits a nature reserv you must know what is allowed to do, please read more here